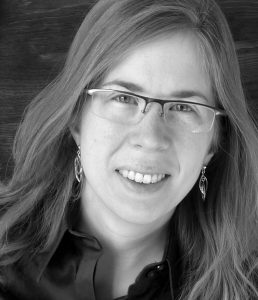 Composer Kathryn Salfelder (b.1987) engages late-Medieval and Renaissance polyphony in conversations with 21st-century techniques; she borrows both literally from chansons, motets, and masses, as well as more liberally from Renaissance-era forms and structures.
Commissions have included new works for the Albany (NY) Symphony, Boston Musica Viva, United States Air Force Band – Washington D.C., American Bandmasters Association, Chelsea Music Festival, New England Conservatory, Western Michigan University, Temple University, MIT, Japan Wind Ensemble Conductors Conference (JWECC), and the Frank Battisti 85th Birthday Project. Her music has been performed by the Minnesota Orchestra, saxophonist Timothy McAllister, conductor Ken-David Masur, and by over three-hundred ensembles at the nation's leading universities and conservatories.
She is the recipient of the ASCAP/CBDNA Frederick Fennell Prize, ASCAP Morton Gould Young Composer Award, Ithaca College Walter Beeler Memorial Composition Prize, and the United States Air Force Colonel Arnald D. Gabriel Award. Three wind ensemble works – Cathedrals, Crossing Parallels, and Reminiscence – are published by Boosey & Hawkes.
Kathryn teaches harmony and composition at New England Conservatory's School of Continuing Education. Previously, she served on the faculty of NEC's College division and as Lecturer in Music Theory at MIT. In her spare time, she can be found realizing figured bass lines and dabbling at the organ.
DMA, New England Conservatory. MM, Yale School of Music. BM, New England Conservatory. Studies with Michael Gandolfi, Aaron Jay Kernis, and David Lang.
—
—